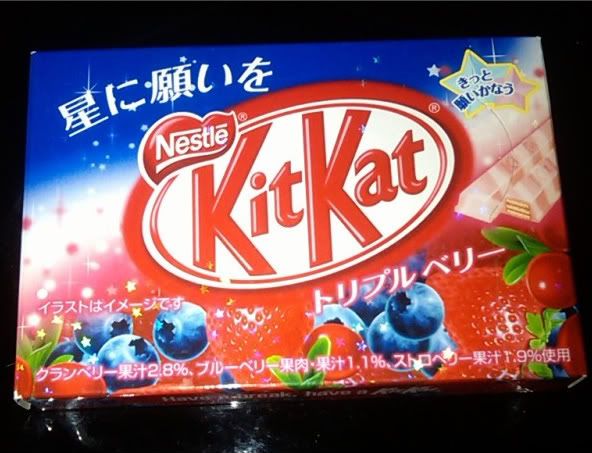 Mixed Berry is another of the special edition flavors from Japan.

I'd Like to thank my Friends at Jlist for send me this bar to review.

Japanese snackers are so lucky- they have such a huge array of limited edition flavors to choose from they must have a hard time choosing what to have. Kit Kat much like the beloved Pocky comes in pretty much every flavor you could imagine.

This is a Mixed Berry Kit Kat. As the label is entirely in Japanese I am unsure exactly what's in the bar- but from the cover art I can tell you that it has blueberries, strawberries, and cranberries. It's covered in what I am assuming is white chocolate.



The bar is broken up into two individually foil packs filled with two fingers each.
The fingers themselves are quite pretty. It's a soft pink base with marbly ribbons of white swirls. Once you open the foil you are immediately hit with the berry smell. It's like strawberry milk meets children's vitamin.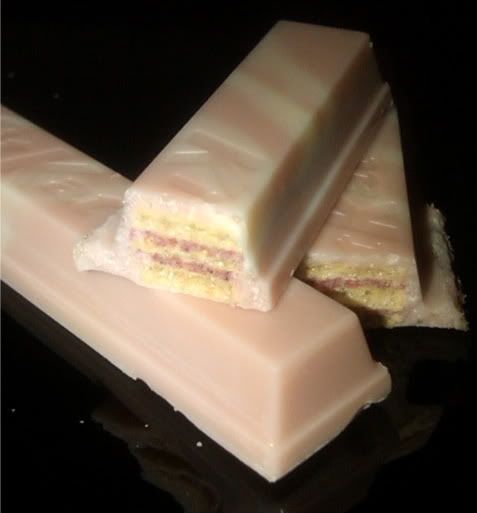 If you are a fan of either strawberry milk or children's vitamins then this may be the bar of your dreams. The chocolate is very smooth and creamy. There's a vague vanilla quality to it but mostly it takes a back seat to the berry flavor. The berry flavor which seems to be hidden in the darker pink layer that is spread on the wafers, tastes to me strongest of strawberry. It's very sweet but towards the end the blueberry does wave hello. While I would never say it was the most natural of berry flavors it does manage to avoid having any chemical aftertaste. The wafers were great, very crisp and fresh.

I think someone who likes berry flavored candy more then I do would love this bar.






PURCHASED FROM:


Provided by Jlist.com