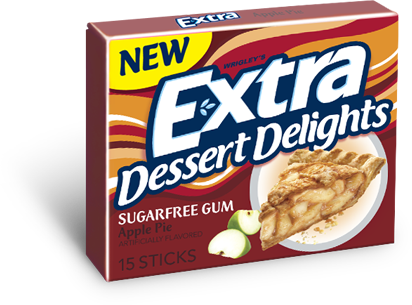 NOTE:
THIS REVIEW WAS ACTUALLY WRITTEN ABOUT SIX MONTHS AGO. I JUST HAD NO PICTURES SO, I DIDN'T PUBLISH IT. I APOLOGIZE FOR LACK OF BETTER SHOTS, BUT LETS BE REAL-- GUM ALL PRETTY MUCH LOOKS ALIKE. AND SADLY, I CAN'T CHEW ANY FOR AT LEAST 3 MORE MONTHS
.
If there is a flavor of gum you don't see all that much of, it is apple- and that is normally a good thing, because when you do find it, it tends to be sour apple flavored. And as much as I love an actual Granny Smith, I am not a huge fan of fake sour apple. What greatly adds to this gum's appeal (get it?--a PEEL?--yeah, I really haven't blogged in a while...) is that is a warm, sweet apple flavor. (And yes, I see that there are green apples pictured on the packaging.)
I mean, who doesn't like apple pie?
The stick has a mellow cinnamon halo that sits in back of the almost floral taste of the sweetened apple flavor. Extra even managed to get a taste that could almost be called "buttery" in there...almost. I know that all sounds weird taken separately, but as a whole it is actually pretty tasty.
My only real complaint is that the flavor fades fast. As in, under five minutes. This I do not understand, as Wrigley's produces other gums whose flavors lasts far beyond my desire to chew them, and yet this one practically sits in your mouth apologizing for coming (and going) so fast. Kind of reminds me of some dates I had back in the day. But never mind.
My only other issue--and it's a small one--is also for some odd reason the gum seems a bit tougher than most of the other Extra flavors. I was willing to blame poor storage/weird shipping, etc. on the first batch. But I am on pack number three, and they were all purchased from different retail outlets--in three different states, no less--so that leads me to think it's the gum itself. (Obviously, it is not so tough that the texture is keeping me away.)
A nice flavor for those times when you aren't in the mood for mint.
Be sure to check out these other reviews from:
The Impulsive Buy
&
Gum Alert
http://www.blogger.com/img/blank.gif
PURCHASED FROM:
Publix Supermarket
PRICE
$0.97
CALORIES:
5 Calories per stick
ADDITIONAL INFO:
Contains phenylalanine
OFFICIAL WEBSITE
extra.com