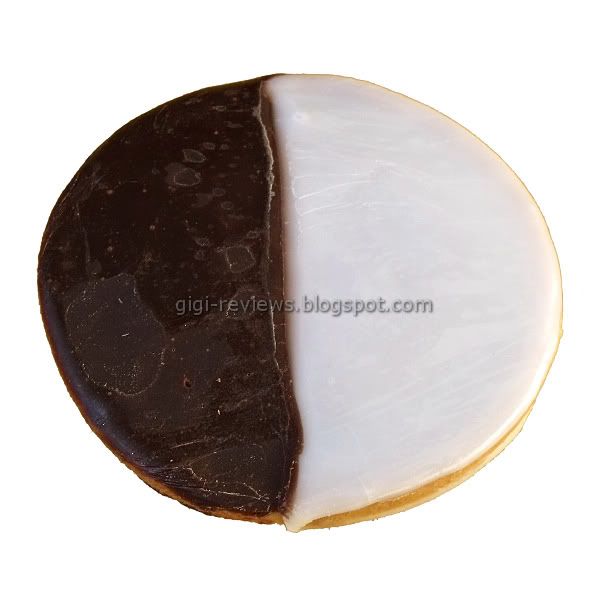 I have been on the hunt for the perfect Black & White cookie for a couple of years now. I have come across a couple pretty good ones, but nothing yet has made me want to get into my car in the middle of the night and drive 3,000 miles for a cookie.
If you aren't sure what a Black & White cookie is, it's a sponge cake base that has half vanilla frosting and half chocolate frosting (and is rather iconic to New York City). If done right, it is possibly the best type of cookie
ever
. If done badly, it's almost enough to make you want to reach for a carrot stick over the cookie. (I do, believe it or not, voluntarily snack on carrot sticks.)
EuroPan is a small chain of bakery/cafés that have your standard issue baked goods in stock, and I have walked past the Broadway and 94th Street location (New York City) dozens of times and not gone in. But I needed a loaf of bread for dinner, and while choosing my bread I could not resist picking up a cookie and reviewing yet another Black & White. See the sacrifices I make for you guys? Eating cookies on a whim! Remember, kids, I am a committed professional -- and such acts must be only attempted with great seriousness and caution.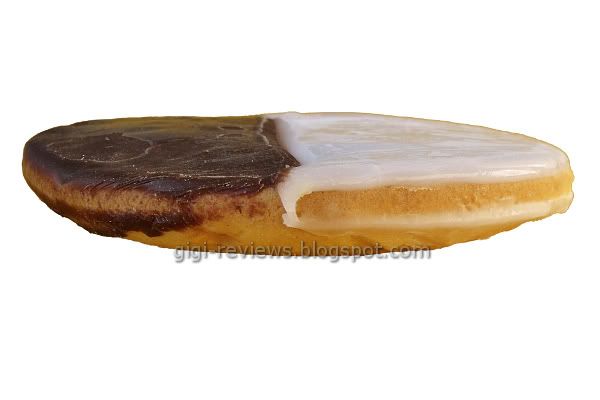 The cookie itself is huge. You could call it the size of a large coffee saucer, or even a small salad plate. And it was a good quarter of an inch thick at the edges, maybe half an inch in the middle. The frosting is separated fifty-fifty.
Through the clear plastic wrapping, the sponge cake felt moist. This can be a good thing...provided it's because the cookie
is
moist, as opposed to as greasy as a cast member of
Jersey Shore
. (Not that I've watched every episode
and
the reunion special. No, not me, I haven't. Really.) It was in fact moist and spongy in a good way. The cake itself had a vaguely lemon flavor that I really liked.
The white side of the frosting really just tasted like simple icing, and didn't seem to attempt to be "vanilla" -- and I think that worked to its advantage. It added sweetness but at the same time it didn't have the sometimes horrible fake vanilla aftertaste. I am sure that if done with real vanilla it would be outstanding, but it's pretty darn good ether way.
The chocolate side: nice, deep cocoa flavor. Think of a somewhat solid version of a good canned chocolate frosting. It's fudgy, but never too sugary. It tastes like it was actually made with real chocolate.
What I also liked about both sides of the frosting is that the layers are thick enough that you get the slightly crunchy feel of really biting down into something before you hit the soft, springy cake.
Everything
about this cookie was good! If there's a EuroPan anywhere near you (so far, only in New York City), you need to check this out.
This has been the best Black & White to date!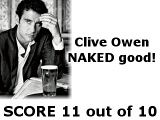 PURCHASED FROM:
EuroPan Bakery & Café
PRICE:
Ummm...I forgot. Sorry! But I'm quite sure it's under $2.50.
CALORIES:
Unavailable
OFFICIAL WEBSITE:
europan.com