Fear not! This is not going to become an official (or even an unofficial) Donut Week -- but I struck while the donuts were fresh (something different tomorrow, I promise). The second part of my Tim Horton's odyssey is the rather aptly named Blueberry Bloom donut.
I got this one for two reasons:
1. It's blueberry and I love blueberry.
2. It's just cool looking.
The yeast-based donut actually is shaped like a little flower. In the center is a blob of blueberry jam, and on the surrounding petals is a layer of vanilla fondant hidden by blueberry flavored sprinkles. If nothing else can be said about this donut, it sure is pretty and it stands out from its peers.
But how does it taste?
Again, the dough base reminds me a lot of French bread. It's light, but I wouldn't call it airy (like, say, an original Krispy Kreme). It's sweet, but only slightly. It's not heavy or greasy in anyway.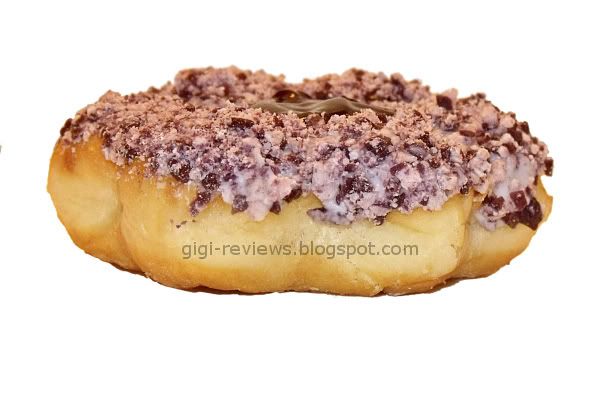 The blueberry jam center is sadly shallow. The jam itself is quite good. Seedless and sweet, it also picks up an almost sour quality when mixed with the vanilla fondant beneath. Yes, it does taste like something that came from a jar. It's not that I expected the kitchen to be filled with little old Canadian grandmothers canning home made preserves -- but that doesn't make it any less good.
The sprinkles added a little crunch and a little extra sweetness. These reminded me more of blueberry-flavored candy than of real blueberry. But I really liked the added texture, so I am not complaining.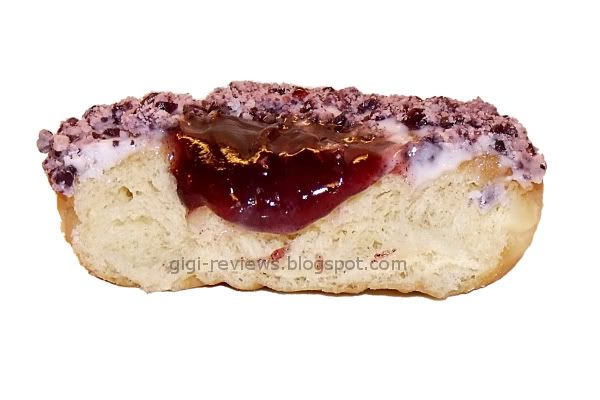 The only part I didn't like was the vanilla fondant. Too thick, too sweet, and it reeked of fake vanilla. I could not confirm the use of vanillin, but it's not exactly a stretch to assume it from the flavor.
It's a good donut, but I wouldn't call it a great donut.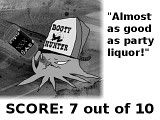 PURCHASED FROM:
Tim Horton's (Penn Station, New York City)

PRICE:

$0.95

CALORIES:
230 per donut

OFFICIAL WEBSITE:
timhortons.com