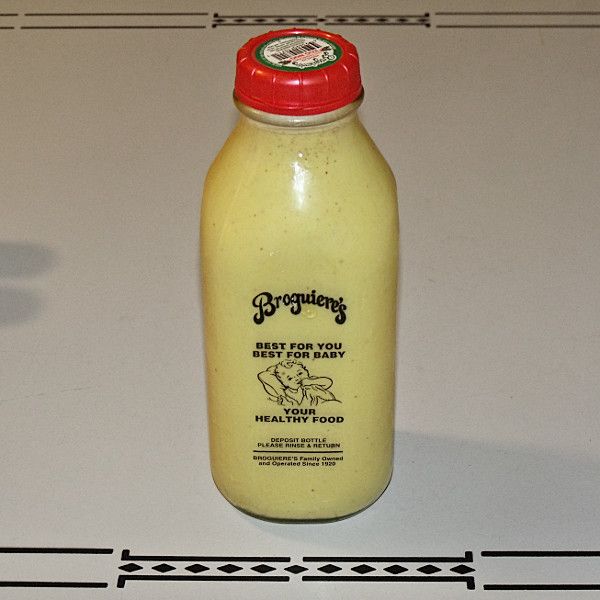 It's not often that I dedicate a review -- but with this one, I have to give a special shout out to Doug who runs the the
O.K. Corral Ostrich Farm
. You might have seen Doug on
Dirty Jobs
or
Modern Marvels
. Or perhaps you've even been lucky enough to try some of his ostrich meat or eggs. The reason this review this is dedicated to Doug is because he and I have been email pals for about the last year, and one of the things we've talked about a lot is our shared love of Broguiere's products.
Anyway, I have been looking forward to trying this since last year when Doug -- along with many other readers, as well as literally hundreds of online mini-reviews -- proclaimed Broguiere's to be quite possibly the best egg nog in the world. Really, how could I possibly
not
want to try that? Unfortunately for me, by the time I decided to, it was so late in the season that there was simply no more of the egg nog on the shelves. Broguiere's only produces egg nog for a brief, seasonal production run each year...and when its gone for the year, it's gone. In my area there are few stores that even carry it. I also live 34 miles from the location of their own drive-thru store; which, with Southern California traffic, is more than just a bit of a nuisance. However, if you are close to Montebello, California (in the greater Los Angeles area) it is possible to get it directly from them in greater quantities than you can from a typical retail location.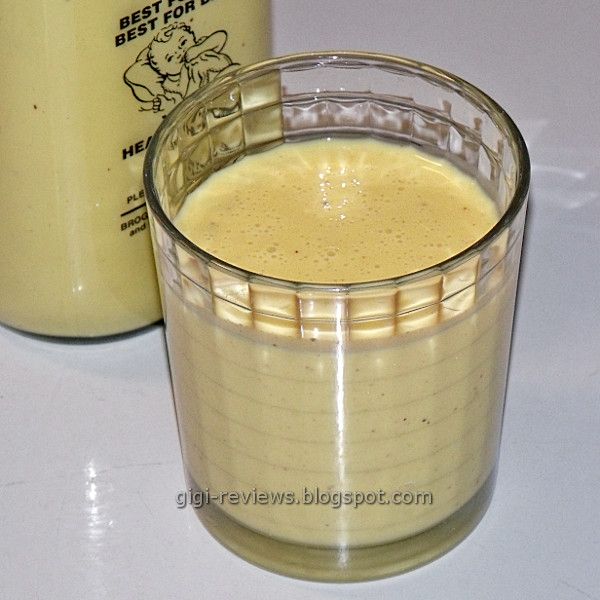 As with all of Broguiere's products, it comes in an old fashioned heavy glass bottle. The color of the nog is a rich buttery yellow, with little specks of spice sprinkled throughout. And before you even take a sip, you can see it's easily twice as thick as any other egg nog you're likely to have tried.
Tastewise, it lives up to every single bit of hype. It's extremely creamy, and like all the other Broguiere's products that I have tried, it leaves the same fatty, rich film in your mouth that a premium ice cream does. There are notes of vanilla and nutmeg. Maybe a touch of cinnamon too. But what it really tasted like to me was a super quality butterscotch. I'll bet a touch of dark rum added to this nog would make a fantastic adult treat -- but even drunk straight from its 1950's
Leave it to Beaver
-looking bottle, it's sinfully good.
I think even if you've been a horrible brat throughout the year, if you leave this for Santa, you could bribe your way into getting that new Wii.
Bottom line -- this is simply the
Best Egg Nog EVER!
It's even better than the Southern Comfort egg nogs I reviewed last year, and make no mistake, I still love those too.
Plagiarizing from myself here, but...I know that for those of you outside of Southern California, this review may be something of a tease. But you ought to search out local dairies in your own area that sell products like this. The difference between this and the highly processed stuff you're probably used to drinking is amazing, and worth whatever it takes to hunt it down.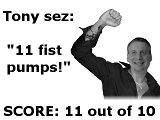 PURCHASED FROM:
Vons Supermarket
PRICE:
$5.39 per quart bottle (price includes $2 bottle deposit, which is refundable when empty bottle is returned).

ADDITIONAL INFO:
None on the bottle, but the cap advises you to call (323) 726-0524 for nutritional info.

OFFICIAL WEBSITE:

Talk about old school...if they have a web site, I couldn't find it. But they do have a Yelp page here, most of whose reviews are even droolier than mine.