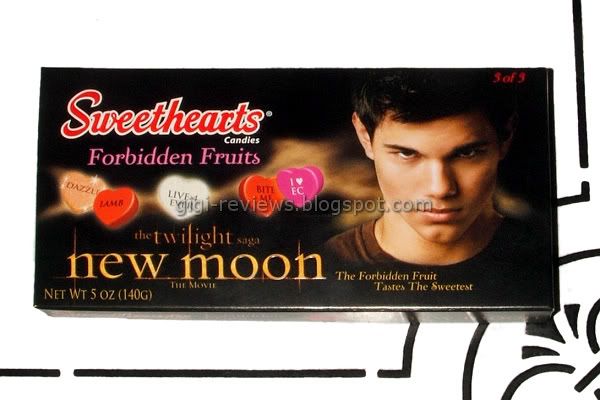 Necco did a Twilight-themed version of the conversation hearts that was released around the time Twilight was released on DVD. Now it seems Necco has decided to jump on the stake early with New Moon, because they have released these Sweethearts (and the similarly themed Sky Bar) well before the movie's release date of November 20th.
The themed boxes have each have one of three different images. Mine is a Jacob box, because the Twihards at my local WalMart snapped up all the Edward and Bella boxes before I got there. Jacob, as best I can guess, is the third wheel in the Edward and Bella relationship -- and he's a werewolf. I may not like my vamps sparkly, but I personally would always pick a vampire over a werewolf. Maybe it's just because I am not a fan of men with back hair...
Anyway, there are four different flavored hearts in this collection: Secret Strawberry, Orange Obsession, Tempting Apple, and Lemonessence. Each heart has an outer layer of sparkle added to them. The sayings on them were actually pretty poor quality in my bag. In fact, the majority of the hearts were either blank or the lettering was so smeared they were unreadable. Some of the sayings that I could figure out included "True Love," "Bad Guy," "U R My Life," "Dazzle," "My Love," and "Soul Mate."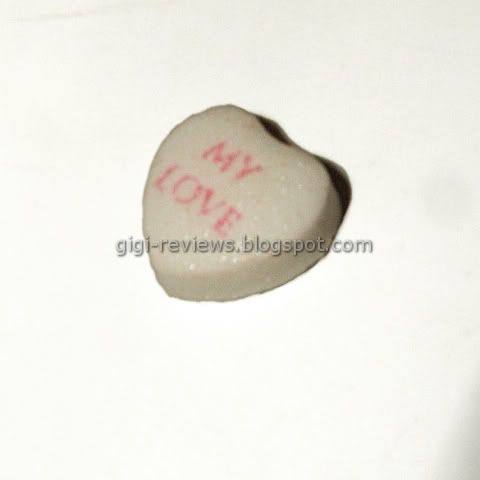 I started with Lemonessence.
Essence of Lemon would be a better description. It is lemony, but there is no zing, none of that sour pucker that can make lemon flavor so good. It's sort of sweet, and sort of medicinal. Eh...well, at least there were sparkles.
Secret Strawberry:
The strawberry and the apple were hard to tell apart from each other. As it turns out, the strawberry are more pink. They also taste exactly like children's chewable vitamins. It is a super-fake strawberry flavor. Yuck.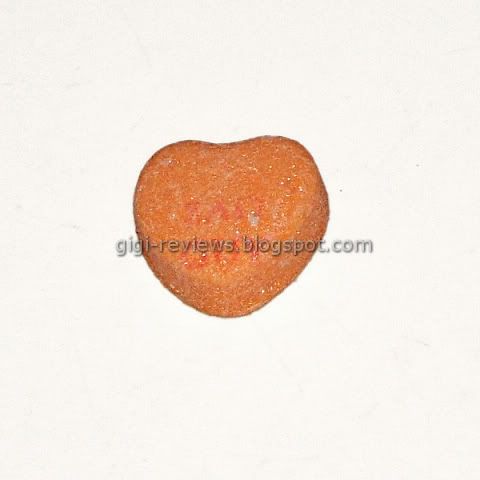 Orange Obsession:
Again, children's vitamin is about the best way to describe the flavor -- but in this case, it would make a really good children's aspirin. The orange is mild, and there seems to be some vanilla notes to them. Sort of like a chalky Creamsicle. These were the best of the bunch.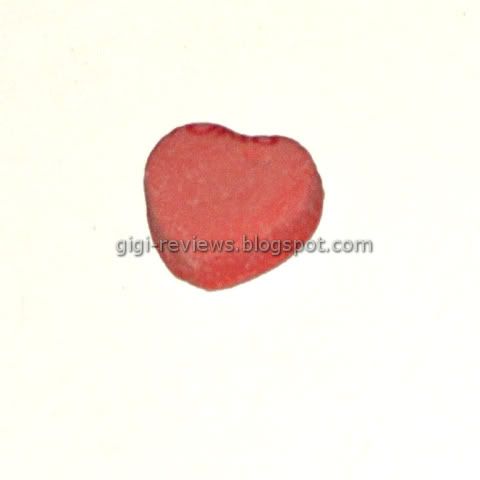 Tempting Apple:
This sort of tastes like apple juice...well, it tastes more like some industrial food laboratory's vague idea of apple juice. This one was actually so bad it was kinda good.
I am not a huge fan of Sweethearts to begin with, and this collection did not exactly make me gushy with love. In fact, I'd be quite happy never to see these again. Blecch.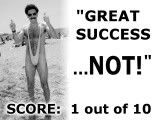 PURCHASED FROM:
WalMart