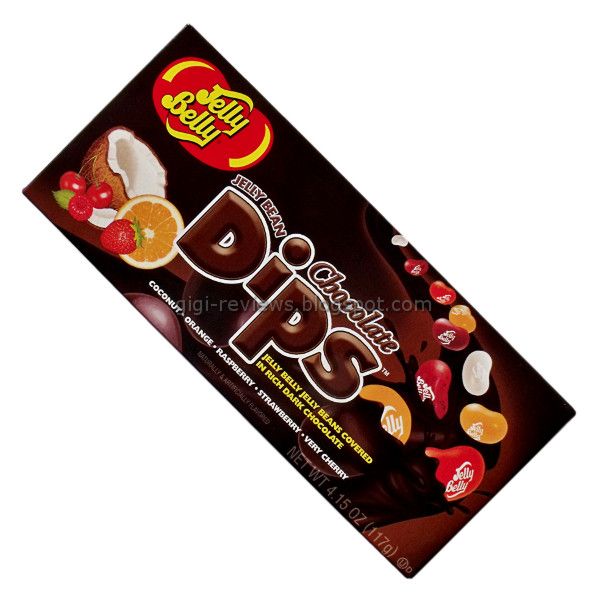 First of all, I feel the need to apologize to the nice people at Jelly Belly. They actually sent this box out to me just prior to Christmas, and due to snowballing events (a good majority of which included the six inches of snow that pretty much shut down Atlanta), I have not actually gotten around to doing the review until now...and really I hate being so tardy.
Mea culpa
.
I actually was really excited to try these beans after reading
Candy Blog's review
in early December, when Cybele got her hands on a box.
I have long loved Jelly Belly's beans, and oddly enough, as much as I dislike coconut, that is my favorite flavor jelly bean. I was sent the five flavor gift box. The
official Jelly Belly website
also offers a rather impressive selection of ways to get the dipped beans besides the gift boxes. Inside the box, in little bean-shaped wells, the dipped beans sit clearly marked so you don't have to guess which kind you're getting. The five flavors are Very Cherry, Orange, Raspberry, Coconut, and Strawberry. And since that's the way they're placed in the box, I am going to review them in that order.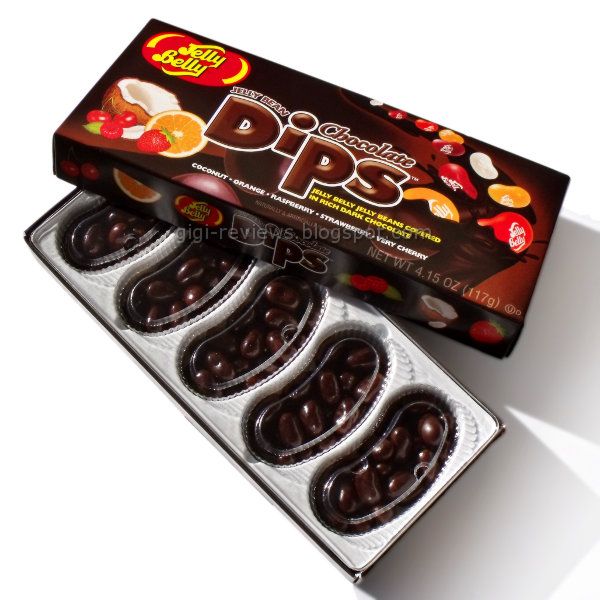 As far as the chocolate coating goes, each bean is completely enrobed in a layer of glossy chocolate. But as Cybele points out in her review, the size of the bean is identical to its non-dipped siblings. This is because the chocolate replaces the normal sugary shell that would cover the bean's center. Knowing that kind of disappointed me prior to tasting, because I am one of those people who like the slightly crunchy texture that you get biting into a normal jelly bean. But hey, we have
chocolate!
So maybe I shouldn't be preemptively whining.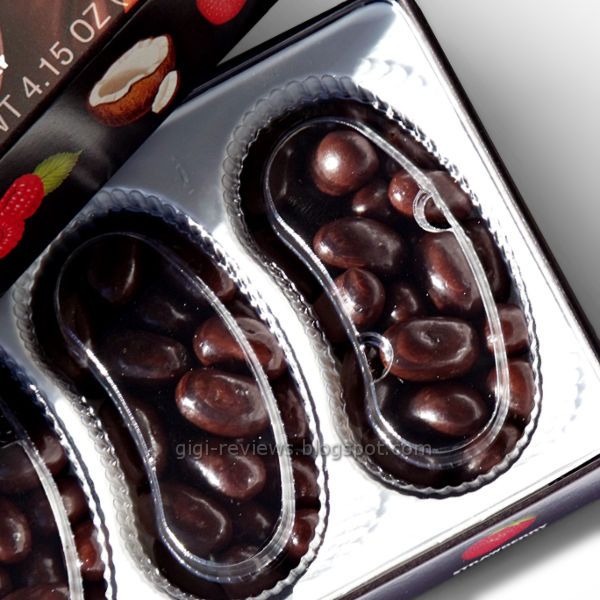 The chocolate is simply identified as Dark Chocolate, but I could not tell you the cocoa percentage. When you open the box, the aroma is vaguely chocolatey and sort of fruity. The beans, of course, are sealed by the chocolate; so I was not expecting a strong fruit smell.
Very Cherry:
This was the flavor I was least looking forward to. I am not a fan of cherry candy as a rule, but I was glad it was first, because I figured it would be all uphill from here.
The chocolate is a thin layer that dissolves quickly (if you're the kind who lets your beans melt in your mouth rather than chewing it). It tastes OK. It's not the best chocolate, but it certainly is not the worst. It is a very mild dark -- enough that in the case of the cherry, it provided some nice contrast to the sweetness of the bean. I have to say my fears about the texture were wasted. I really liked how it was basically a nice soft jelly. It reminded me of the chocolate covered jelly sticks I like.
The cherry itself is strong. They have always reminded me exactly of a Luden's cough drop. It will never be my favorite flavor but I give it points for not having a bitter aftertaste.
Orange:
Orange and dark chocolate are always a winning combination and this bean is no exception. It's a nice zesty orange. I really liked the fact that Jelly Belly didn't hold back on the flavor; this is a seriously strong orange. I think the chocolate helped sweeten it up a little, and that may help those of you who prefer your orange a little tame. I like the boldness and think this is one of the best orange-chocolate combos ever.
Raspberry:
Like the orange, this is pretty much a classic chocolate and jelly flavor combination. The raspberry has a very floral quality to it. It reminded me of a raspberry liqueur (like Chambord). I really liked the fact that it was a very grown-up, realistic raspberry flavor instead of something artificial. Again, I think for a time tested chocolate/jelly candy it is on par with the best of the best.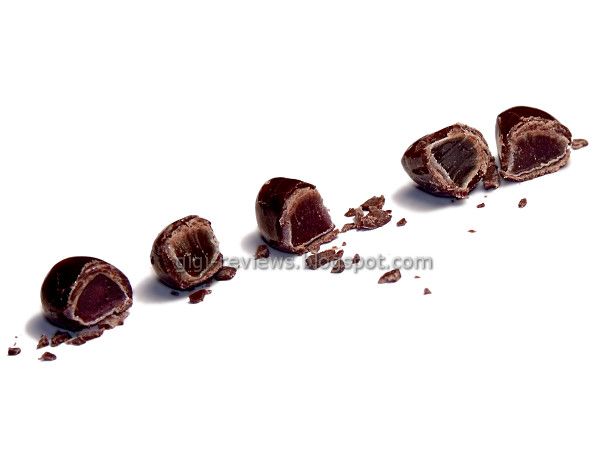 Strawberry:
Ok, I admit it: I was not really looking forward to this one. I love fresh strawberries, but strawberry-flavored items tend to have a nasty aftertaste for me. And unfortunately, this was no exception. Which was a bummer, because after the orange and raspberry beans being so outstanding, I'd gotten my hopes up. Sadly, this bean is just too darn sweet. It skirts the line between tasting like the actual berry, and every cheap strawberry flavored gum on the planet. I think I actually liked the Very Cherry more. And that, my friends, is saying something.
Finally, I saved the one I was most looking forward to for last. (OK, so I just messed up the order in which they're packaged. Shoot me, why doncha?) And that one would be...
Coconut:
Blame it on a young love of piña colada flavored items and the smell of certain sunscreens. Once again, while I hate actual coconut, the coconut bean has always been my favorite of the Jelly Bellys. I know that makes pretty much no sense, but that's the way it is. (OK, that and toasted marshmallow ones -- how great would
that
be chocolate coated?) I like the slight vanilla edge it has and the sweet tropical flavor. Incidentally, I have already announced I will not be sharing the remainder of these beans, so don't even ask -- y'all know who y'all are!
As a whole, I really liked the Chocolate Dips. I hope they expand the line to more flavors -- I am nominating the marshmallow and popcorn beans.
Since this is a gift box, I am going to give it an overall rating rather than rating the individual beans -- but remember that each bean is also available on its own. If I had rated them individually, I can tell you that the Orange, Raspberry, and Coconut would each be solid, orgasmic 11's...but the Very Cherry and the Strawberry dragged the average down. It's still a very nice gift box, though.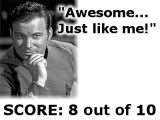 PURCHASED FROM:
Sample from company

PRICE:
My box was a manufacturer's sample. It sells for $5.99 on the Jelly Belly website.

CALORIES:
150 calories per 40 beans.

ADDITIONAL INFO:
Box doesn't give any allergen information.

OFFICIAL WEBSITE:
jellybelly.com