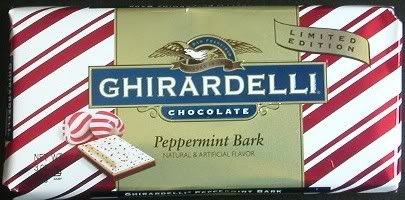 Eh, these are no Candy Cane Kisses

The bark is made up of a thin layer of milk chocolate with a layer of white chocolate upon it. The white chocolate has small bits of peppermint candy embedded in it.

The milk chocolate it pretty good. Smooth and milky with a nice melt. The white chocolate... well it's white chocolate. I may have mentioned a time or ten that I am not a fan of white chocolate. It's oily, it doesn't melt easily and to me it always has a funky after taste. The only thing that redeems it in the bark is the peppermints. Yes, once again I am sure bet to be a fan of crunchy peppermint.

Fan's of white chocolate or even those who are indifferent to it will probably love this bark. For me I am going to save my calories for the Candy Cane Kisses.