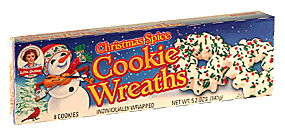 Apologies for the lack of new reviews. Between the holiday and a virus that I can't shake about the only thing I could review was the oh-so pleasant taste of Biaxin I haven't been up to reviewing anything.


Little Debbie is huge in the South. You may have even heard Larry The Cable Guy tell tales of his sisters love affair with Debbie. I personally have a love/hate relationship with her. Some of the products are good in the way that you know they are cheap and horrible but that becomes part of the charm- and some of them are just plain cheap and horrible.

I'm torn on the wreath cookies. The cookies are about the diameter of a soda can and quite thin. Covered in a sugary white icing and sprinkles. The texture is flaky and semi-crispy.
The taste. Uneven. Some of the cookies have an oily after taste to them and some of them taste like they are over loaded with nutmeg. The flavor is most like a spicy gingerbread- well more like spicy gingerbread as imagined by someone that had never actually tasted gingerbread. Personally, there are much better Christmas cookies out there.