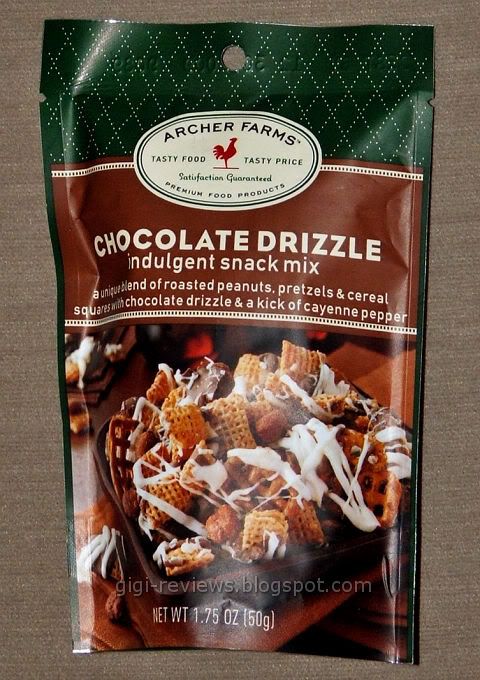 Something about cereal snack mixes make me think about parties my parents may (or may not) have thrown back in the 70's, where the adults stayed upstairs, and the kids were banished to the basement, where all they had to entertain themselves with was a TV that only got four (yes,
four!
) channels, some old toys, games missing pieces, and snacks consisting of bad frozen pizza and a big bowl of stale cereal with whatever Mom felt like tossing into it...


It's OK, we worked through most of the bad memories in therapy. Really, we did. Anyway...




The Chocolate Drizzle mix features roasted peanuts, pretzels, and Chex-like cereal covered in a chocolate drizzle with sprinkles of cayenne pepper.

I think for me it's the mix of cereal and spice that is what I really don't like about snack mixes. Archer Farms was pretty easy-handed when it came to the pepper. You can definitely tell that it's there, but it doesn't overwhelm. There are other spices including garlic, hot sauce, Worcestershire sauce, and lots of salt. But yeyond the salt and the cayenne, I couldn't pick any particular flavor out--it's just sort of a generic spice.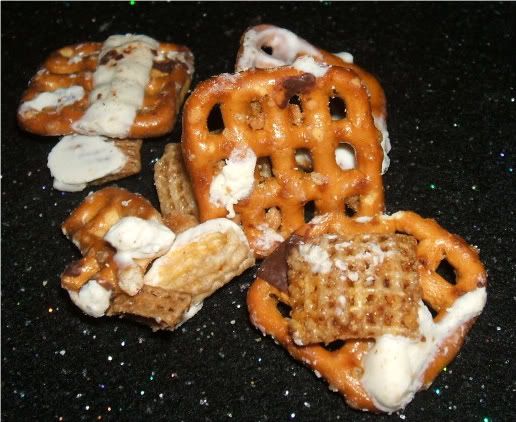 The chocolate drizzle was very liberal mix of white and milk chocolate. It was heavier on the white. Not the greatest chocolate ever, but surprisingly good for a non-candy product.




All of the individual components were fresh and crisp. If you are a fan of snack mixes, I can see where you would really love this one. I, however, am still not a fan. I guess it's just one of those things that no matter how good the product, is I am still not going to like it. With that in mind, I am going to rate it based on the quality of the ingredients and how I think someone who likes snack mix would feel, rather than based on the ingredients and my thoughts on the taste.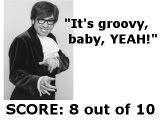 PURCHASED FROM:


Target