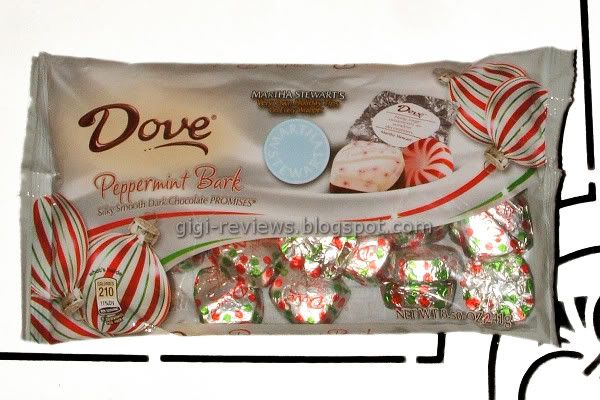 I like Dove. I like the "Promises" line. Truth be told, the milk chocolate Promises are a candy dish staple in my house. So naturally, I snapped up the Peppermint Bark Promises.
This Promise is layered, with a base of dark chocolate, topped by white chocolate that is studded with bits of peppermint hard candy. It was disappointing when I opened the bag and there was pretty much no hint, scent-wise, that there was peppermint goodness hidden within. Even once unwrapped, the Promises themselves smell more like dark chocolate than anything else.
When you bite into the bite-sized square, the chocolate is smooth, but there is some crunch provided by the peppermint nibs. Biting into each layer separately, starting with the white chocolate top, the white chocolate is smooth and creamy. It has a very milky quality that I liked. And of course since this is where the peppermint pieces live, it has the added crunchy texture. The mint also makes this portion a little cooler on the tongue.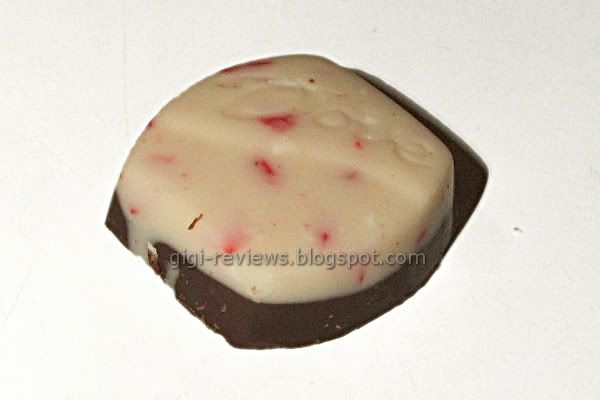 The dark chocolate layer is standard Dove Dark. It's more like a really good semi-sweet chocolate chip than a true dark. It's smooth and has an outstanding melt. It's not as intense as some of the top of the line darks out there, but it has a woodsy, coffee-like taste that keeps it interesting.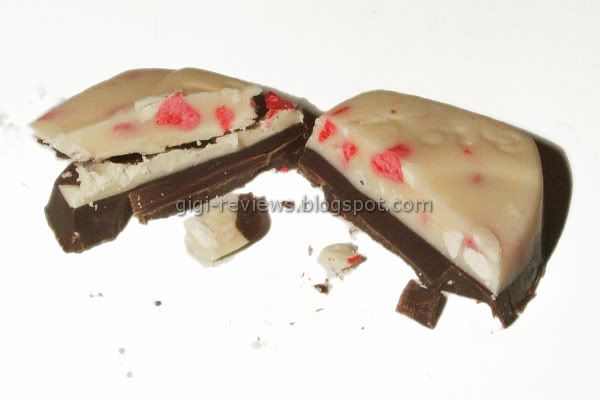 The two layers combined have a flavor I can best describe as slightly mint-flavored milk chocolate. Overall I liked these Promises. I just found myself wishing the mint were stronger. But if you like your mint subtle rather than assertive, this may be the candy for you.
Oh, and speaking of the actual "promise" that lurks on the underside of each wrapper...
Should I be excited or slightly horrified that inside each Promise wrapper, instead of some inspiring little quips like "Life is Sweet" or "Listen to the music of your heart and dance" or some other quote that sounds like it may have been written by a thirty-something woman while listening to Michael Bublé with her cat on her lap....oh wait, that would be me...never mind! Fine job those writers are doing...
Anyway, instead of that, these promises feature holiday tips from Martha Stewart. And what are some of Martha's nuggets of wisdom?
"String lights on border edges to line your walkways"





"Dress packages in candy stripes for a sweet presentation"





"Use fishing line to hang wreaths"





"Glittered lemons make cheerful center pieces"
So that was it? Martha, c'mon! Shouldn't we be whittling antlers for the family pet or mining our own coal for the naughty on our lists? Don't get me wrong; I actually like Martha. Unlike a certain hideously overexposed quasi-contemporary of hers, she gives her audience credit for having the desire and/or the skill set to do more than chop up hot dogs and bake them into mac & cheese. And even if Martha
did
ask her audience to do that, it would be with the understanding that they would of course make the dish using hot dogs from animals they not only raised, but butchered themselves. The cheese would also be homemade, using the milk from the animals on the farm; and certainly the mac would have come from the homegrown semolina. (Extra points for using kitchen implements hand-forged in your home smithy, conveniently located on the spare shelf above the spice rack.)


What?
Are you telling me you
haven't
turned your 75 square foot apartment balcony into a fully operational, self-sustaining .001721763 of an acre organic farm? You guys are seriously just not trying!
Anyway, the Dove Peppermint Bark Promises weren't bad. They weren't special enough to buy again, but yeah, I'll probably finish the bag.
Be sure to check out Cybele's review
here
. I think she liked them more than I did.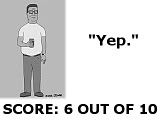 PURCHASED FROM:
Albertsons Supermarket