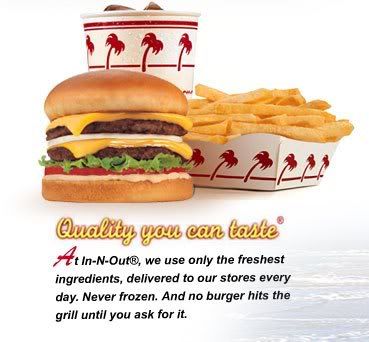 There are two things displaced Californians tend to talk about when they meet each other out in 'the wild'...

As cliche as it is one of those things is how they miss the weather and the other is ALWAYS In-N-Out burger.

For those of you who have never heard of them, In-N-Out is a fast food chain based in Southern California. The restaurants mainly drive-thru based and offer a very small menu- double and single burgers, fries, soda and shakes only (although there is also the "secret" menu which really just offers slight variations on the menu). Everything is fresh and made to order.
It is hard to top an In-N-Out burger. Even Gordon Ramsay admits to loving In-N-Out.
Maybe I shouldn't admit this but I personally craved one pretty much every day the four years I was out of state. I wasn't back a full day before I picked one up!

The Double-Double is as you have probably guessed by the picture and the name a double cheeseburger. There are two patties that have just the slightest bit of a pink center. two slices of cheese, lettuce, tomato, "spread" (which is 1000 Island as far as I can tell) and I like mine with a small amount of grilled onions.

If there is such a thing as heaven on a bun this is it. Harold and Kumar can keep White Castle. Personally it is hard to beat the Double-Double. The fresh baked sponge buns are soft. The cheese is melty. The meat is moist but not greasy.

If you ever get the chance to have one you owe it to yourself to try!