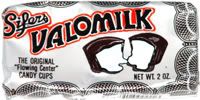 Valomilk is one of those classic candies that I had heard a lot about and had wanted to try but had never actually seen out in the wild.


Thanks to the fine people at Cracker Barrel I finally got to try them!
Valomilks look a lot like the Reeses Big Cups when you open them- except every cup I got had just the tiniest amount of marshmallow oozing out of the cup at same point. How could I not consider that a good thing?!

The marshmallow center is indeed liquidy . It is gooey and flowing but not too sweet. The chocolate that makes up the cup it's self is on the sweet side- you can defiantly taste vanilla. And it is a little grainy. Normally those are things I don't like in my chocolate but it just seemed to work so well with the marshmallow that I really liked it.

I liked these enough to want to hunt down a local source!




PURCHASED FROM:


Cracker Barrel



.