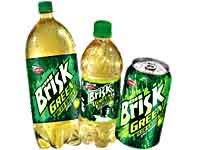 Seeing this on the shelf I couldn't resist trying it- it's bright green! who could resist something bright green?!
It has occurred to me after the fact that in nature there is a reason why things that are dangerous are brightly colored as a warning sign... And yet I chose to ignore it anyway.
About the only way to describe this is to imagine drinking a liquid sour apple Jolly Rancher- and oddly enough that is not a good thing. I can see this being a big hit with teens or even younger kids but I don't see it having a broad enough appeal to get hugely popular. Worth a try but it can't hold a candle to Snapples Apple White Tea.