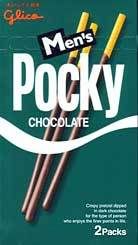 If Mountain Dew is the drink of geeks and nerds worldwide then Pocky is the candy


I know that I have had it before but I just don't remember it one way or the other. I was at Cost Plus World Market today and they had the Men's Pocky which features bittersweet chocolate. I thought why not and bought them.

Oh, now having eaten more of the package then I care to admit I am both chocked and saddened by the fact that I made it through 30 years of life Pocky free. The damn things are addicting!

It's so simple. Pocky is an almost flavorless wheat cracker rod (I say almost because it actually reminds me of the cookie in a Twix bar) that is dipped in a thin coating of chocolate. To be honest the chocolate on the Men's Pocky reminds me exactly of a Toll House morsel. It's a little sweet, vaguely salty, crunchy. If that doesn't sound like a perfect food then you are just weird. Now I want to try some of the roughly million other flavors they make!