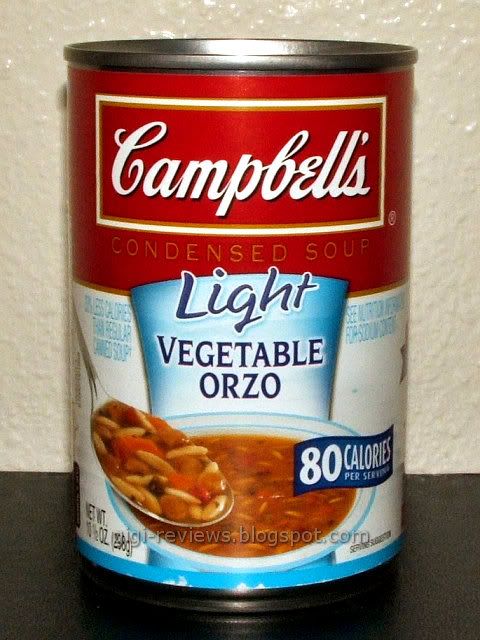 Ahhhh, soup...warm, toasty, comforting soup!
Since it was 109 degrees in my 'hood yesterday -- that's 43 C, for y'all across the pond -- it's really not what one would consider soup weather here in balmy (some might say "infernal") Southern California.

Or so I thought until I wanted a late night snack, and I didn't want anything heavy or substantial.

Well, Campbell's Light Vegetable Orzo soups comes in at only 80 calories per half-cup serving, and damned if it just didn't sound good.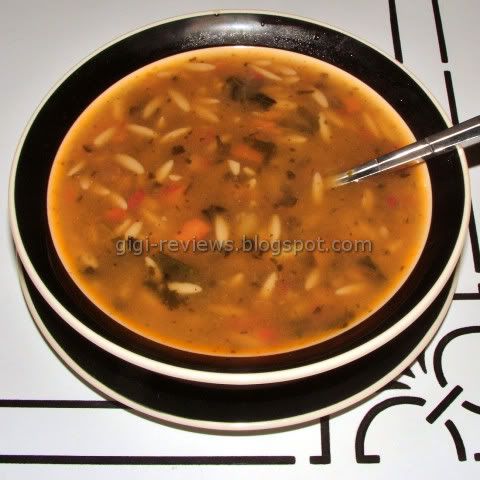 The base of the soup is a vegetable broth (uh, duh). There are small leaves of spinach floating on the top. Also bobbing in the soup are bits of tomato, carrots and lentils. Unfortunately for me, there is also red pepper. If you like red pepper, then you may love this soup. Hey, Indiana Jones has snakes and Gigi has red peppers. Gigi HATES red peppers!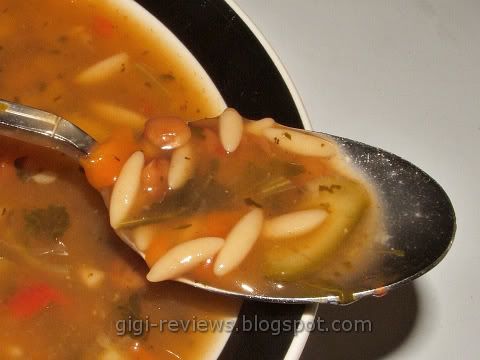 But red pepper aside, the orzo was quite plentiful and tender. It went really well with the lentils and the celery bits. There is a bit of Parmesan cheese in the soup -- but I like A LOT of cheese in my soup, so I added to it and it added a nice hit of salt.

This is one of Campbell's condensed soups, so it's not as chunky as the appropriately-named Chunky line, nor as creamy as some of the thicker soups. But it is satisfying and smooth. Personally, the only reason I didn't like it is the inclusion of the red peppers. If you don't mind them, or even like them, then this could be a pretty good soup for you.

It's hard me to rate this one, given the red pepper...but oh, how I

hate

red pepper, so I am going to give this two ratings based on this fact....

First, for those who hate/dislike red pepper: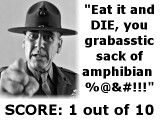 OK, that may be a little harsh...so let's go with this one, based on everything

but

the red peppers: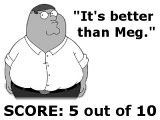 PURCHASED FROM:


Sample From Company