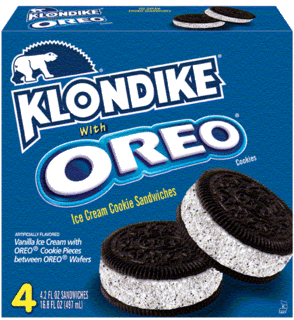 Yesterday an anonymous commentor alerted me to the fact that they had been unable to find any of my beloved Oreo treats in stores any more

I sent off an email to the folks at Klondike/Unilever asking if they had in fact been discontinued and got the following email in return:

Dear Gigi,

Thank you very much for contacting us. I am sorry to inform you that the Klondike® Oreo® Ice Cream
Sandwiches has been discontinued.

Many factors contribute to a decision to discontinue a flavor or product, but they all boil down to the fact that we
didn't sell enough of the flavor or product to keep producing it. We know that you did your part to keep the
flavor or product in production. Please understand that we would rather not disappoint any of our consumers.

Thank you


NOOOOOOOOOOOOOOOO! WHY?! I would like to tell you that reading that email was not followed up by several hours of pouting and a liberal amount of whining. I would also like to tell you that I am tall. Some things just aren't going to happen today...

So, sadly we are saying an all to soon good bye to a great ice cream sandwich. While it will no longer fill our stomachs (or our thighs) it will live on in our hearts.