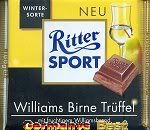 Pear truffel!

I love pear and wish it were used more in candy. When I saw the Ritter Sport truffle I couldn't resist trying it.

Aroma wise all I got from it was sweet milk chocolate. Unlike the Red Wine truffle where you could smell the red wine right away. Don't let that fool you though. Hiding inside of that cute little square is a center of pear brandy mousse!
The mousse is cool on the tongue and actually tastes just like a sweet sip of real pear brandy. I can't say enough good things about this bar.

Yes, the chocolate is still on the sweeter side but it helps cut the alcohol taste that would otherwise be too strong. The melt is smooth and rich. Is it embarressing to admit that I actually finished the entire bar in one sitting?- probably but I did!