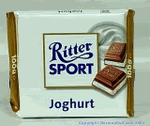 Really I am not obsessed with Ritter Sport!

OK I kind of am!
I like the seemingly endless variety of bars that they have- AND the alcohol inspired flavored bars were both pretty darn good. With all the things I review even the things I really like I rarely finish. I have already had to buy another of the Pear bars.

So how was the yogurt bar?
Yogurt seemed like an odd filling to start with. It wasn't bad. It reminded me almost of a cheesecake brownie. The yogurt was bitter but had a slight sweetness to it. The after taste is tangy, more like sour cream then yogurt.
As a filling it grew on me.

What I wasn't sold on was the milk chocolate. It was very creamy and had a smooth melt to it. I just thought it was way too sweet. This would be great with a dark chocolate or a less sweet milk.