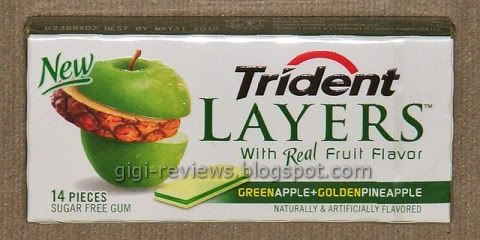 One of the things I love most about "back to school" time is that there always seems to be a rush of new gum flavors released.


Trident has introduced the Layers line. Layers feature two different fruit flavors stacked together.

Who doesn't love green apple and pineapple? Well, honestly, I had my doubts after smelling it. Once you crack open the plastic wrapper, the smell that wafts up -- and by "wafts" I mean slaps you so hard your mama feels it -- is like the stink of 1000 bad pineapple car air fresheners. If this gum were the new kid in school, based on first impressions, it would be sitting alone at lunch. Forever.

Based on the outer package, I had thought that the gum would have one layer of pineapple sandwiched between two layers of green apple. But the gum itself is actually the opposite -- one layer of apple between two layers of pineapple.

Upon chewing, it's the pineapple that stands out first. It's sweet and sour in a not-so-great way. As the pineapple quickly dies away, the sour of the green apple takes over. It's not even a pleasant sour -- it's a soupy weak sour. AND it has this weird, minty, almost menthol burn. As

that

mercifully dies down, the gum then takes on a chemical taste that's like leftover fruit, mint and artificial sweeteners.

I like the

idea

of this gum. The actual gum is just vile.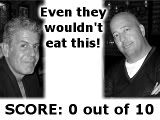 PURCHASED FROM:


Target