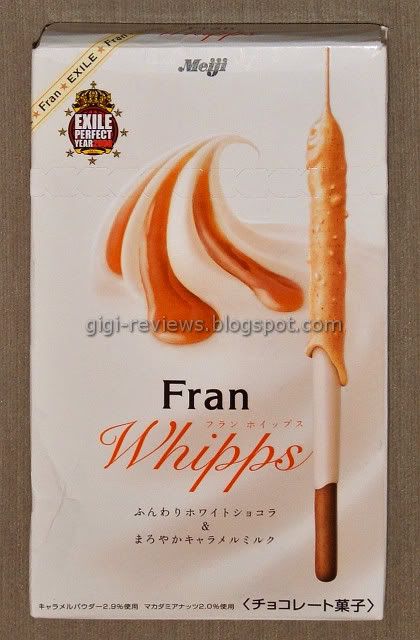 The Japanese stick candy wars -- Pocky vs. Fran -- are sort of like the Coke vs. Pepsi battle. Both are tasty and equally as bad for your teeth, but very good for your dentist.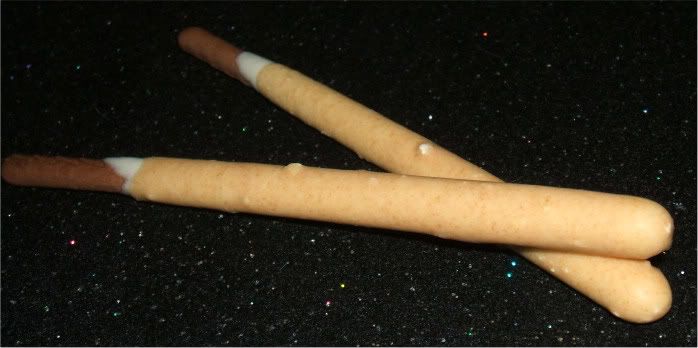 Fran is the "number two" stick candy product, after the powerhouse that is Glico's Pocky. Pocky may be the better known and more popular of the two, but don't let that fool you. Fran definitely holds her own.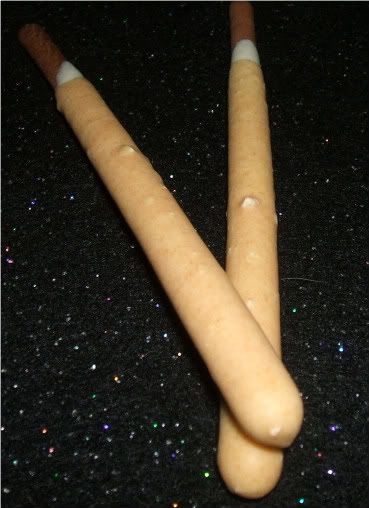 Fran's Whipps line have been among my favorites. They have thicker, more decadent coatings and some interesting flavor combos. As I am sure you already know (because, clearly, you can read), today I reviewed the White Chocolate & Caramel sticks.

This Fran certainly takes the prize for being the most fantastic smelling. The moment you open the wrapper, you get this wonderful warm,sweet, milky scent. If you have ever been lucky enough to be in the same room with caramel that's still cooking, it smells exactly like that.





The cocoa stick is enrobed first with a layer of white chocolate, then wrapped in caramel. Starting from the inside out:

The stick:
It's fairly neutral tasting, although it looks like a really dark chocolate biscuit. It adds just enough chocolate flavor that you know it's there. On its own, it would be bland but with the toppings it works very well.

The White Chocolate:
I am not a white chocolate fan as a rule (if you want some great white chocolate reviews from someone who is a fan, check out Jim's Site) but here it adds some good contrast. It's sweet, and has that vaguely vanilla taste that white chocolate is known for. Texture-wise, it's quite smooth and cool on the tongue.

The Caramel:
While this is the thinnest layer, it is also the most flavorful. The burnt sugar just makes everything better. It's milky and it adds just a slight graininess to the texture -- yet it's not sticky in the least.

On their own, each layer is good -- but together they are terrific. My favorite Fran to date!

I got mine at Kam Man in New York City's Chinatown, but my friends at J-List carry lots of Meiji products, including Fran -- so check them out!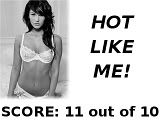 PURCHASED FROM:


Kam Man Market, NYC


.