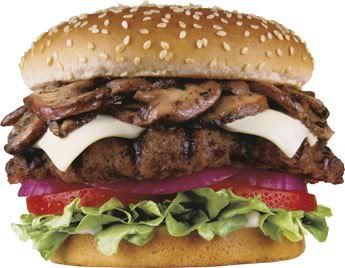 Back in the day, when I was somewhere around five or six years old, Carl's Jr. was the fast food I would beg for.
Because it was also the only place we ever lived within walking distance of, my grandmother, who watched us during the day (and didn't drive) would often break down and take me there; mostly to shut me up. Nowadays, I am less of a fan than I used to be -- sorry, guys, it's hard to compete with the legendary In-N-Out -- but I do like their Six Dollar Burger. And every now and then, I just have to have one. Also, as I love mushrooms on pretty much anything, it seemed as if this burger should be a slam dunk.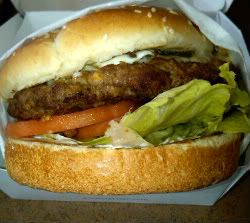 The burger itself is doesn't disappoint. The meat has a nice grilled taste. They don't go overboard on the mayo, and the cheese is serviceable. Yeah, they do put somewhere around half a head of lettuce on it, but that seems to be the new standard.

The problem with this burger is the mushrooms. They're slimy.

Really

slimy -- like snail trail slimy. They taste good enough -- by probably-canned, highly preserved, not-fresh standards. You can definitely taste that at some point in their lives they had been earthy and meaty, just a little chewy, and all the things that a good mushroom should be. Oh, what a thing it might have been if not for the fact that somewhere down the road, something evil turned them into the blackish puddle of muck that floats in a grease river on top of the burger. And in a final insult upon injury, there were even herbs added to the mushrooms to add further flavor. But, like the 'shrooms themselves, the herbs don't have any life left either, and in fact I can't tell you which herbs they once were.

But for some reasonably fresh mushrooms, this would have been a terrific fast food burger. It's actually hard to rate this one because the burger itself is damn good...but, since it is advertised as a Portobello Mushroom burger, we have to give the sorry mushrooms their due. Thus, in the end, I can't rate this one highly at all.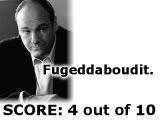 PURCHASED FROM:


Carl's Jr