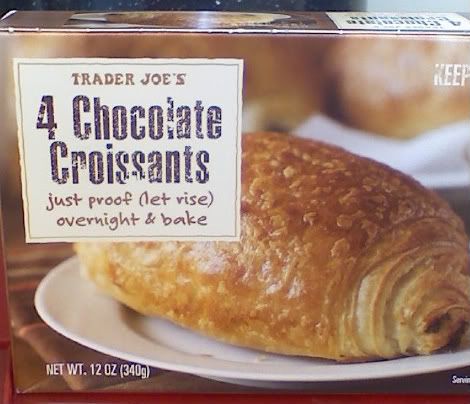 Preheat the oven and grab your copy of Bridget Jones Diary!

I admit it I have read Bridget Jones Diary around 20 times. Each time I read it I find myself craving one of Bridget's favorite pastries- the chocolate croissant. When I saw the box of these at TJ's I could not resist getting them.

These croissants require a little more effort then most TJ's products. You have to allow the croissants to proof (rise) for about nine hours before baking. I set mine out last night and baked them while I watched some of the Shark Week programs saved on my DVR.

They only take about 20 minutes to bake and the pay off is that they smell fabulous. It took a lot of self restraint on my part to allow them to cool a bit before diving in. I did however eat mine still warm.

OH MY GOD! let me tell you how incredible these croissants are!
The pastry it's self is light and flaky and yet still buttery and rich. They literally melt in your mouth. Because I ate mine still warm the chocolate was melty and smooth. It's a semi-sweet chocolate and it was like biting into a lake of happiness. These are high end bakery quality good.

These get the elusive 11!
A must try!