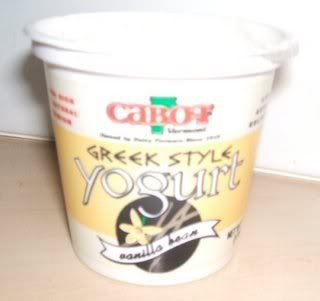 Creamy and tangy!


I was thinking about it after I had eaten the container that I can't recall ever having eaten Greek style yogurt before.
I knew of it of course, being the good foodie I am. Just for one reason or the other I just had not tasted it... Until today.

Lurking on my local Mega-Mart yogurt shelf tucked in amongst the Yoplait and the Fizzix was the Cabot Greek Style yogurt. While they had several fruit flavors I went with Vanilla because I LOVE me some vanilla yogurt.

I would be lying if I said it was love at first spoonful. The yogurt was a creamy white that was studded with vanilla bean. The texture was rich and creamy- it actually reminded me more of sour cream then yogurt (since I also love sour cream that was a highlight for me). It had a great coolness on the tongue.
No, the texture was outstanding it was the taste that took awhile to win me over. At first the prominent flavor is actually kind of tangy. To put it bluntly it reminded me of vinegar and Miracle Whip. You would think that such a fabulous combination would have me swearing off Greek yogurt for life but I liked the mouth feel so much I kept eating (yeah, I don't know why I do some of these thing's either)

A few spoon fulls in the weirdest thing happened- it went from tasting like vinegar salad dressing to a nice balance of sweet and tart. The vanilla starts to come through and when it did it was a pleasant surprise to find it was a natural vanilla taste and not the usual super-sweet fake vanilla you tend to find now-er days. I may have a new addiction!

If you see this on the shelves get some!