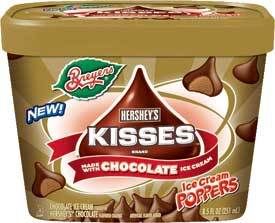 I should probably thank my local mega mart for having all the Hershey products on sale these last 2 weeks.

I wasn't sure what to expect with these. The thing I have noticed with Breyer's ice cream is that it is really good or really not good. To clear that up- the flavors are usually pretty good but the texture tends to be gritty. Gritty and ice cream just don't belong together.

But I am happy to report I really liked these!
I tried the milk chocolate kiss with chocolate ice cream flavor. The ice cream was smooth and a deep cocoa taste to it. The slight bitterness of the ice cream was nicely off set by the traditionally sweet Hershey's milk chocolate.

I have to admit it would be way too easy to nuzzle my way to the end of these kisses.