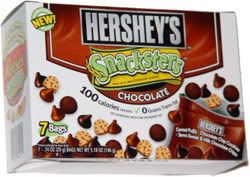 Because anything ending in 'ster has to be cool


Snackster's is a 100 calorie snack pouch with a mix of mini cookies, cereal and two types of chocolate chips.

The the mini cookies aren't bad. Actually they remind me of really tiny version of Wal*Mart's store brand cookies.
The cereal I am pretty sure they are Cocoa Puffs.
The chips are both semi-sweet and milk chocolate. The semi-sweet is good. The milk however is cheap and oily even for Hershey's.

Honestly there are better 100 calorie snacks out there. I can see kids loving these but they don't do anything for me.