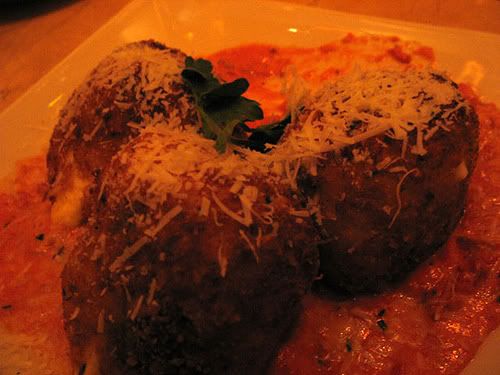 Yes, I know that fried mac & cheese sounds right up there with the innumeral atrocities to food committed by Rachael Ray...


But if you have not tried it yet your life is just a sad shell of what it could be.
Can I please shake the hand of the person who got the idea to deep fry the gooey goodness that is mac & cheese?!

I have had a few places versions but Cheesecake factory has had the best with consistent quality. They use 5 different type of cheese. The pasta is al dente and the frying creates a perfect sphere of crunchy, salty, cheese. It is served on a river of creamy red sauce (well, to be picky it's more like pink sauce)

I have no idea what it is but I am sure the calorie count must be horrific. Clearly this is a sometime food. They come served in balls of four and love them as I do even I can only eat about 1 1/2 balls so be prepared to share.

They aren't highbrow, they don't even pretend to have any sort of nutritional value- and your friends might even tease you about ordering them. I promise by the end of the first bite none of that is going to matter.