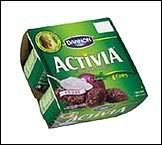 There are so many jokes that can be made they practically write themselves!


The Activia line from Dannon's hook is that it contains the active cultures "Bifidus Regularis" which if you eat the yogurt every day for two weeks is supposed to help regulate your digestive system. And of course we all know what Prunes are famous for. That's why the thought of the Ex-Lax of the yogurt world being made with the Ex-Lax of the fruit world just sort of struck my funny bone.

And well, maybe this should be no surprise but I like prunes. Yes, I am saying it loud and proud I LIKE PRUNES!
Even after the recent attempt at renaming them "pitted plums" they are still looked down on. Which is a shame. They're sweet, and juicy and well yes if you need a little extra help "getting the job done" well they are good for that too.

The yogurt is good- really good.
The texture is smooth and creamy. Flavor-wise it reminded me of a cross between plum and raspberry. There are small bits of prune mixed in.

It may seem like the worst idea ever but give it a chance because it is worth it.