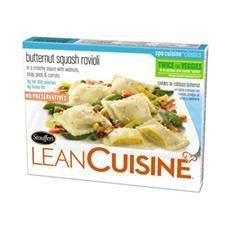 Frou Frou ravioli? why of course I can have them- they're lean!

Do you not want to slap the women in those commercials?.
Anyway, the dish is according to the box:
Butternut squash ravioli in a creamy sauce with walnuts,snap peas and carrots

In real life the thing is also teeming with red peppers a.k.a. pimentos. I HATE pimentos! does anyone out there really like them? either they are really cheap or more people like them then I give credit for. Yeah, they are pretty but...

The julienned strips of carrot, what I think was more squash and snow peas unfortunately tasted more of the pimentos then of their own flavors. Let's not talk of the walnuts. Great idea but the microwave is not a friend of the walnut (unless you like chewy, stale nuts)

The ravioli themselves... say something nice... they were square. And that's all I got. The pasta is doughy and over cooked and the filling is just enough like butternut squash to legally be called butternut squash but I couldn't tell you what it really is.

For all of the good options Lean Cuisine has this is just not one of them. Eating paste would be better.