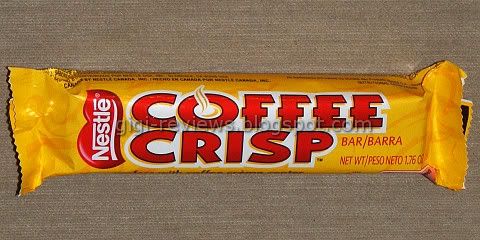 I was scanning the International Foods aisle, and this bar popped out at me.
A little Googling and I discovered that there are several versions of this bar to be had, and I am not sure entirely which one I got. The bar is marked Nestle's Canada -- but most of the label is in Spanish. And to add to the confusion, it was placed in with the UK products. I will just assume my little bar is its own special U.N. version.

The Coffee Crisp bar seems to be most loved in Canada. As best I could tell from my bar, it's a "Chocolaty" coated bar that is made up of layers of wafers with coffee flavored cream sandwiched in the middle.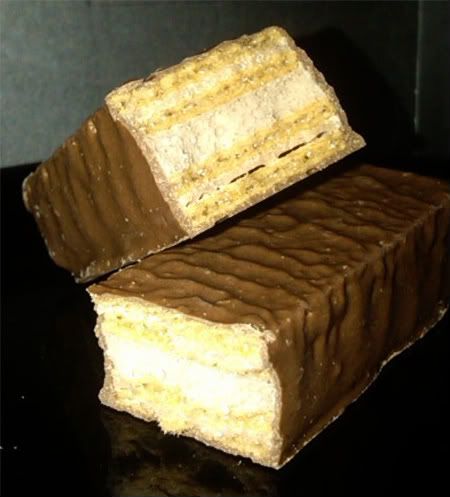 The "chocolaty" coating is very thin, it actually looks better in the photo than in real life. It looks dark and almost thick in the picture. In reality it was a much lighter brown, and its surface had several spots where you could clearly see the wafer below.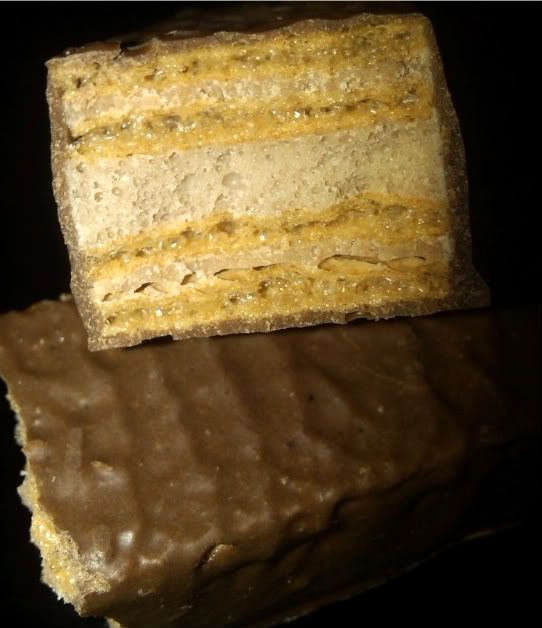 The bar smells like a combination of cheap coffee flavoring and cereal. BUT, it does taste better than it looks or smells.

The thinness of the coating works because it means that it is fairly tasteless. This bar is really about the wafers. The wafers reminded me of those cheap generic sugar wafers you see in stores. But they are surprisingly airy, and tasted to me like a "cake" style ice cream cone. The coffee flavor, while artificial, was sweet and had a little bit of a milky quality.

I really liked the texture. It was dense but had a great crunch. I think this would be good crumbled over ice cream. This bar may not be the highest quality product that Nestle offers, but it is strangely addicting. It's sort of like the Giant Kit Kats' slightly backward country cousin. It may not be as pretty, it may not be that rich, but it's good in its own simple way.






PURCHASED FROM:


Stater Brothers Market