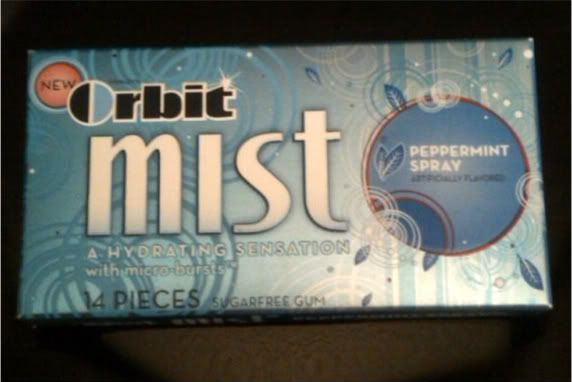 Orbit is my favorite mass market brand of gum.
I estimate that I may have chewed my body weight in the Sweet Mint flavor. So I was excited to see new flavors.

Orbit has expanded the line by adding the "Mist" flavors. The idea behind Mist is that it causes a "hydrating sensation" that makes your mouth extra moist. As someone who has chronic dry mouth from medications, it was an interesting idea (yeah, it would help if I drank more water but that's not as much fun).




The gum actually does seem to make your mouth water a little more then 'normal' gum does. It's not like a Garfield-sees-lasagna type drooling, but it is more.

The flavor is a brisk peppermint. It's a little on the warm side. It isn't anything outstanding but it is pleasant and reasonably refreshing.

Is it sad that my favorite part of this gum was actually the paper wrapper that each piece is encased in? C'mon, tell me it's not cool! Doesn't it make you think of the Jetsons?

I will have no problem finishing the pack off. I am not sure if I would chose this over my favorite Sweet Mint, but I may even buy this again.






PURCHASED FROM:


Walgreens