I haven't pulled out the ice cream maker in a long time, but I had some nice fresh strawberries and some great chocolate and I felt inspired.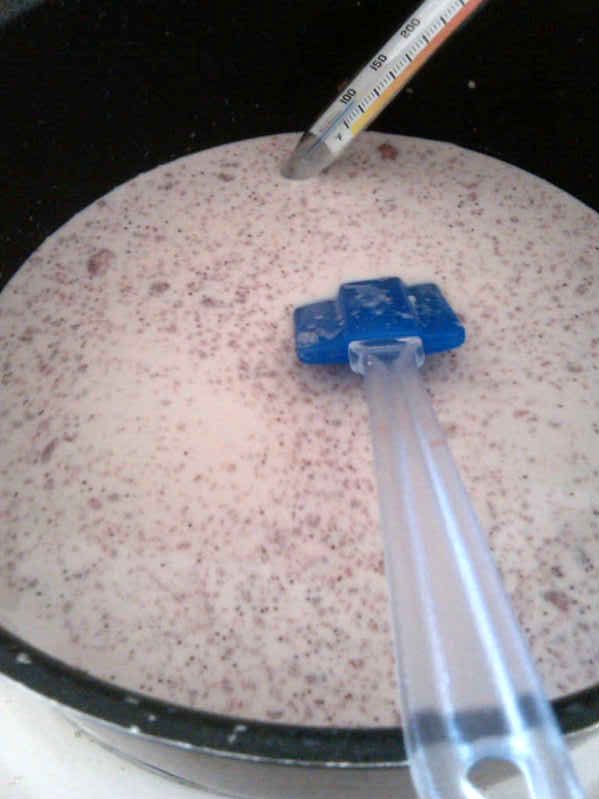 As the base of the ice cream I used Alton Brown's Serious Vanilla recipe, with the following changes: I roughly chopped 5 large berries, liberally covered them in sugar, and left them to macerate over night in the fridge. I then used my Bullet Blender in the morning to puree them. I used 2 cups of cream and 1 cup of half-and-half. I also omitted the peaches, using my fresh strawberry puree instead.




I let the whole thing sit until very, very cold, but not so cold that it set -- setting before churning is bad! (Think of it as feeding Gremlins after midnight. You can do it...but are you really going to be happy with the results?)

At that point, it was into the ice cream maker. I have the Ice-25 model from Cuisinart. The instructions say to churn for 20 minutes, but I find I get better results if I churn for 30 minutes and then add the mix-ins.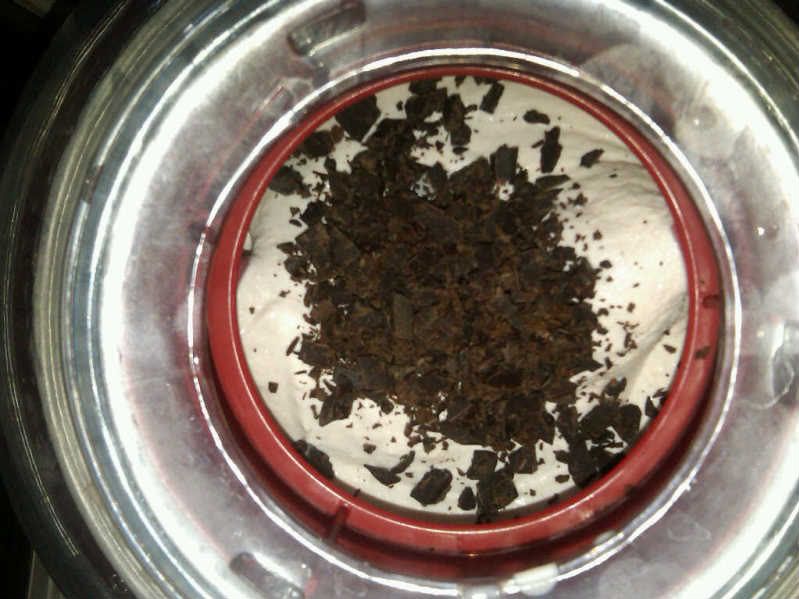 For mix-ins, the first thing I added was small, rough bits of Vosges 74% dark chocolate (review to post tomorrow). It was the perfect chocolate to use because it took some of the sweetness of the berries down, but at the same time it wasn't bitter. I let that churn just enough that the chocolate was well blended in.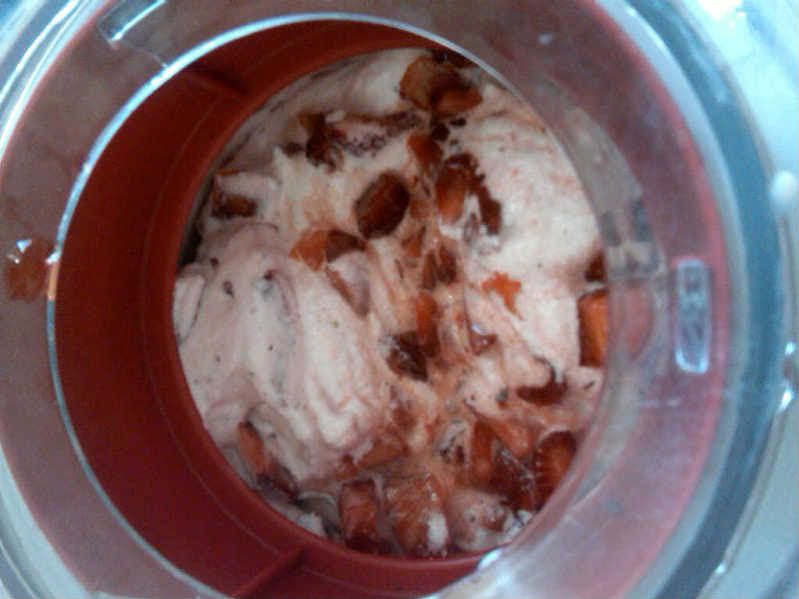 Then I added the berries -- which were simply cut and kept cold beforehand so some of the juice would seep out -- but no additional sugar was added. As with the chocolate, I only churned long enough for the berries to be well mixed in.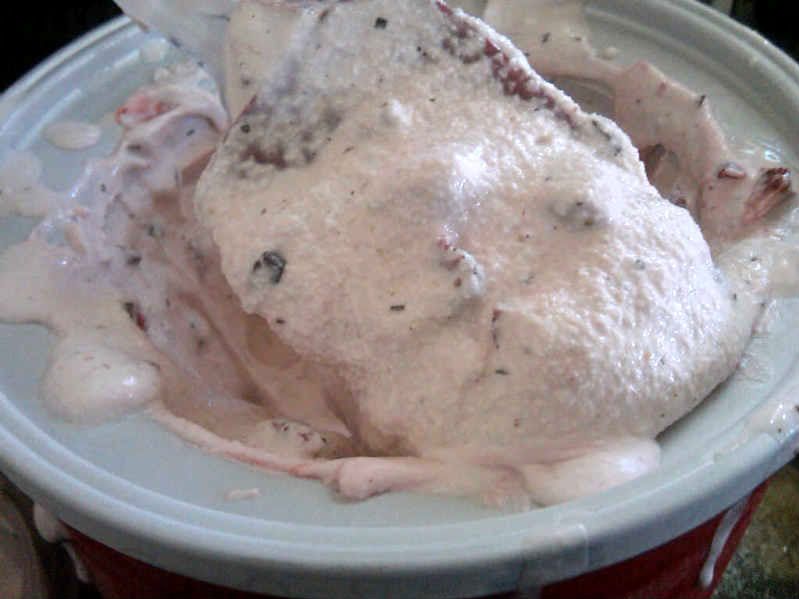 At this point, the ice cream is just harder than the "soft serve" stage, and is ready to be packed into small containers. I like to use little Rubbermaid twist-top containers -- but additionally, I press plastic wrap onto the top of the ice cream so that you don't get a nasty layer of ice.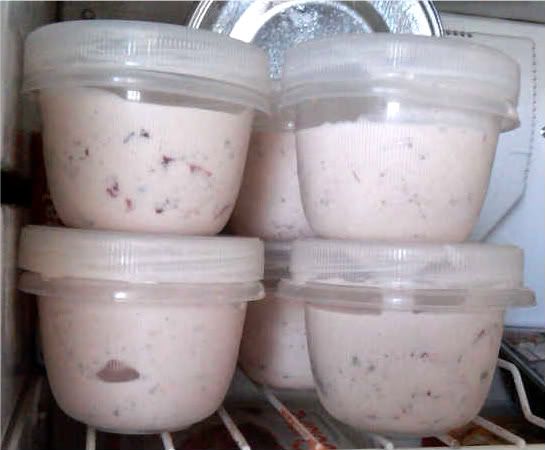 Tasting it straight from the drum it was great. The berries were vibrant and sweet. The chocolate was crisp and woodsy, and the mouthfeel was very creamy and rich. Once the ice cream hard sets, the flavor is going to change a bit. If things have gone well, it will have taken everything that was already good and deepened it. If it goes bad, or if was not cold enough prior to churning, you can end up with large ice crystals which will cause the flavor to seem watered down, and the texture will become gritty.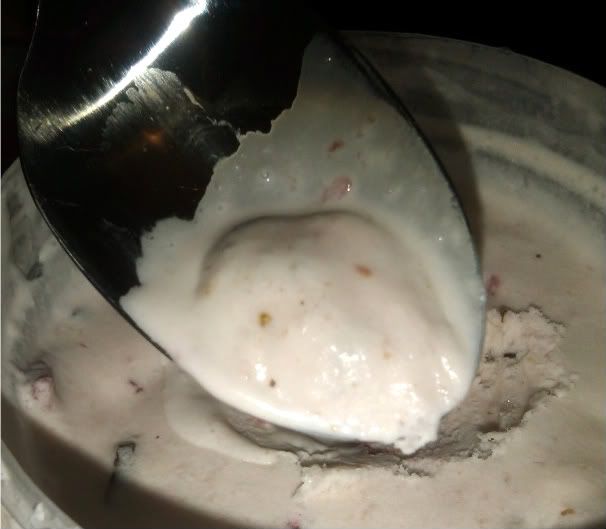 Everything came out great. The base ice cream had just the right amount of strawberry. The chocolate took the edge off the sweetness. The texture was creamy and smooth. Loved it!