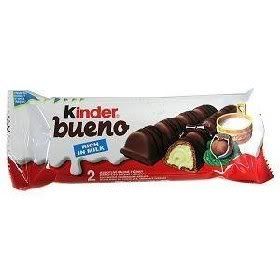 I have to give thanks to Jim over at
Jim's Chocolate Mission
for inspiring me to want to try these.
Jim has reviewed both the regular
Kinder bueno
and the
Kinder bueno White
and he made the hazelnut filling sound like something that sound definitely not be missed. So when I saw the bar at my Italian grocery today I had to pick it up.


The bueno is made up of two fingers that are about the size of a slightly wider Twix bar. Bonus point's to Kinder for having the fingers individually wrapped inside the foil. The fingers are made up of 4 squat segments of lightly chocolate coated goodness. As far as I could tell it was a milk chocolate- the label on my bar being entirely in Polish didn't exactly help me a lot. Hiding inside of the extremely sweet chocolate is crispy wafer shell that surrounds a dollop of hazelnut creme. I don't know if my bar was just really fresh but I have got to say that the wafer was perfect. It was still crispy enough to break with a satisfying crunch on first bite.
Jim was dead on with the hazelnut filling! Seriously that filling is so good that personally I think it rivals the hazelnut used in the companies Nutella.
I wish I could just get a hold of the hazelnut on it's own!!

The bar as a whole has it's merits- I am not normally a fan of wafers, but if they are always as crisp as the ones in this bar (rather then the chewy, limp, stale wafers one tends to find in candy) I could learn to love them. The chocolate coating was too sweet for my taste but, on a occasion I don't mind. The clear star here is the hazelnut creme.





PURCHASED FROM:


Claro's Italian Market