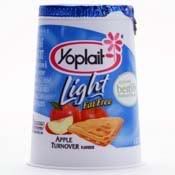 I am warning you guys now we are going to have A LOT of yogurt this week!

Warm weather gets me on a yogurt kick so I have stocked my fridge. The first one I tried was the Yoplait Light Apple Turnover.
I have noticed that light yogurt tends to be either really bad or really good so I was not sure what to expect. Luckily for me the Apple Turnover was on the really good side.

The flavor is light and sweet. The flavor reminded me of baked cinnamon apples. The yogurt it's self is creamy and smooth and surprisingly light on the tang factor. Because of that it made it more satisfying as a sweet snack. The little bites of apple brought some crunch and a slight bitter edge. My only compliant with this yogurt is that the amount of apple bits is pretty sparse.

Really tasty overall and for a 100 calorie snack that is also fat free and relatively good for you it is hard to do better. This gets a coveted 11!